@GolfSongbird
What is @GolfSongbird?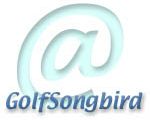 We conduct weekly drawings throughout each golf season for free 18-hole rounds of golf at Songbird Hills.
Each week during the season you will receive an e-mail announcing the weekly drawing winner, course news and upcoming events, and a special discount coupon exclusively for all @GolfSongbird participants.
You can enter by filling out the required information below, or by filling out an @GolfSongbird Registration Card located in our Clubhouse.
You only need to enter once to be eligible.
If you have previously registered, you're all set!
PRIVACY STATEMENT: Songbird Hills Golf Club will never release any of your information to any third party. We wish only to provide you with the best golf experience possible!
REMOVAL INSTRUCTIONS: To be removed from the @GolfSongbird list at any time, click on the "Manage Your Subscription" link at the very bottom of our most recent e-mail –or– send an e-mail to info@GolfSongbird